When Life Gives You Strawberries...
...make strawberry vodka lemonade flasks.
Heart of Glass Strawberry Vodka Lemonades are the perfect union of great taste and convenience. The 200ml flasks are packaged to provide a delicious and refreshing cocktail option for any occasion.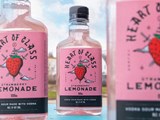 The Story
Ohio strawberries are some of the most delicious berries you can enjoy, but have an incredibly short season. Heart of Glass was created to enjoy the unique tastes and aromas of these berries year round.

Heart of Glass Vodka Lemonade
Ready-to-Drink Strawberry Vodka Lemonade Flasks

11% ABV • 200ml

Find at your favorite local retailer!

Heart of Glass Merch
Wear Your Heart on Your Sleeve
On your sleeve, on your chest, on that cute, new pocket hoodie.
The Heart of Vodka Series
A Change of Heart
If you love Heart of Glass Strawberry Vodka, check out the rest of the Heart of Vodka series.