Did you know? In 1941, Toledo Ballet Founder Marie Vogt smuggled parts of Tchaikovsky's score out of Russia and began presenting The Nutcracker. Toledo Ballet's Nutcracker remains the longest continually running production of The Nutcracker in North America.
Down With The King
The sinister character of Rat King Vodka is unlike any other, embodying a fearless combination of bold flavors and impeccable craftsmanship. Distilled to an art form, each bottle encapsulates a journey into the audacious world of premium spirits. Crafted from the finest grains, Rat King Vodka undergoes a meticulous distillation process, leaving a drink that is as smooth as it is potent.
But what truly sets it apart is its distinctive flavor profile. Engineered for those who dare to venture into the rich tapestry of tastes, Rat King Vodka is an alchemy of layered undertones that provoke the palate and excite the senses. Whether served neat, on the rocks, or as the backbone of an avant-garde cocktail, its versatility is unmatched.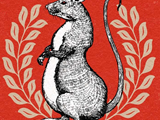 A Manifesto
The enigmatic spirit of the Rat King is captured within each bottle, offering a truly unique vodka experience that combines tradition with a dash of irreverence. It's not just a drink, but a statement—a manifesto for those who live life audaciously and crave a vodka that's equally daring.
Experience the dark allure and audacious flavors of Rat King Vodka, a spirit that defies convention and embraces the extraordinary.
Origin Story
Rat King Vodka is a tribute to the "mouse king" in the Nutcracker ballet and this classic story's relationship to Toledo, Ohio. Inspired by E.T.A. Hoffmann's book "The Nutcracker and the Mouse King" written in 1816, Russian composer Pyotr Ilyich Tchaikovsky composed the music for The Nutcracker ballet in the early 1890s.
In 1941, only two years after the founding of Toledo Ballet by Marie Bollinger Vogt, the first production of The Nutcracker in the United States took place in Toledo, Ohio, complete with live orchestral accompaniment by the Friends of Music, a precursor to the Toledo Symphony. Though only an abridged score was permitted out of Russia at the end of the Great Depression and the onset of World War II, more and more of the score would be released over time, and Toledo Ballet continued to grow the production.
To this day, Toledo Ballet holds the record for the longest consecutively running annual production of The Nutcracker in the nation, perpetuating a beloved holiday tradition that has become synonymous with Christmastime. 
The ballet is set in early 19th century Germany at Doctor and Frau Stahlbaum's beautiful new home, the Manor House.