Embrace the Darkness
Lowertown Black is a limited-edition bourbon whiskey finished in a New American Oak casket we commissioned and had specially built. Darker, oakier, and more robust than the original Lowertown Ninety-Nine, this bourbon is complex, with a balanced dryness and just enough sweetness to welcome you into the darkness.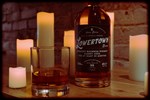 The Story
Created as a small batch companion to our Lowertown Ninety-Nine Bourbon, we wanted to explore the darker flavors of bourbon. Where Lowertown Ninety-Nine is mellow and imparted with tannic sweetness from it's Zinfandel wine finish, Lowertown Black is designed to highlight oak and barrel char.
The Process
Made from the same mashbilI as our Lowertown Ninety-Nine Bourbon, the barrels for Lowertown Black are carefully chosen to impart heavily charred oak and the richness of rye. After aging for more than three years in traditional barrels, we awaken the spirit and move it to a specially made casket to rest before being exhumed and brought to life as Lowertown Black.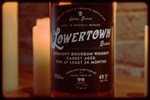 Lowertown Black Bourbon Recipes
Whiskey Series
But First, Whiskey
What whiskey will not cure there is no cure for.