The Gold Standard
Regular vodka can sometimes be so… regular. So we set out to make a vodka that's not just a base spirit for your cocktails, but an essential ingredient that elevates and enriches your drinks.
Crafted from organic, Ohio-grown rye, Heart of Gold delivers a subtle spice that gives traditional vodka cocktails a depth and complexity you never knew they were missing. With eight distillations and a precious metal filtering process, this exceptional vodka boasts a silky, smooth texture and a light, clean sweetness that will set the gold standard for your cocktails.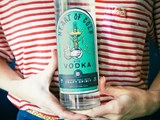 The Story
With Heart of Gold, we set out to make a vodka that we couldn't find anywhere else. A vodka that was clean, but flavorful and rich and silky, but light. Our commitment to using organic, Ohio-grown rye provides a subtle spice that adds depth to traditional vodka cocktails. Our unique dual filtering process, which includes gold, silver, and platinum, creates a velvety mouthfeel and a light, clean sweetness that is not often found in vodka.
The Process
Ohio-grown organic rye and corn are distilled eight times and dual filtered for smoothness. First, the vodka passes through charcoal to remove impurities. Then, it's meticulously filtered through a blend of precious metals creating a smooth, velvety texture.
Heart of Gold Merch
Stay Gold, Ponyboy
Nothing gold can stay, but this shiny, new Heart of Gold gear will last a good while at least.
The Heart of Vodka Series
A Change of Heart
If you love Heart of Gold Vodka, check out the rest of the Heart of Vodka series.